Discover more from Our Portugal Journey
American expats living in Portugal. Experiences, challenges, interesting places to explore.
Over 1,000 subscribers
Driving down the narrow cobblestone village streets of Vila Nova de Milfontes, you can easily miss the door to the Casa do Adro guest house. But on a recent road trip and with a reservation for a two-night stay, Paul thought he saw the sign and stopped the car at the door that we hoped was the right place. It was late afternoon when I hopped out of the car and rang the doorbell. A well-dressed and stylish older woman with a shawl over her shoulders answered. I wasn't sure she knew any English and my Portuguese can only take me so far, but we were in luck! Guest house owner Idália spoke English, and before I could ask if we were in the right place, she smiled and said, "Welcome. Yes, this is the guest house."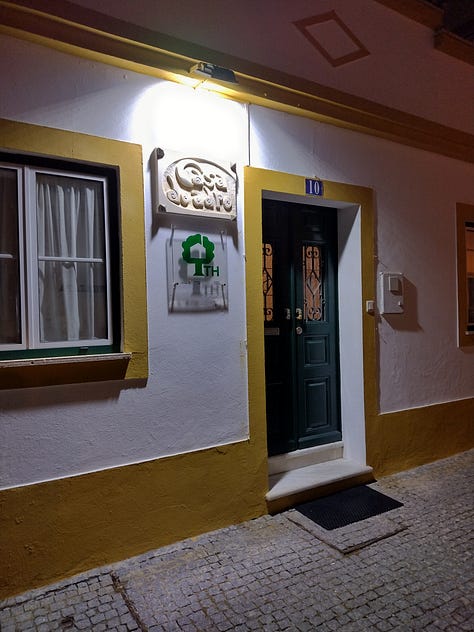 An important part of our Portugal journey is for Paul and I to experience the local culture whenever possible, especially when we take road trips. The coastal Alentejo village of Vila Nova de Milfontes, was on our list to check out, and we were hoping to have an authentic accommodation experience. Granted, some "authentic" experiences can be a challenge and a disappointment, but I had read excellent reviews about this guest house which is why we chose it. And we had no regrets.
A family home.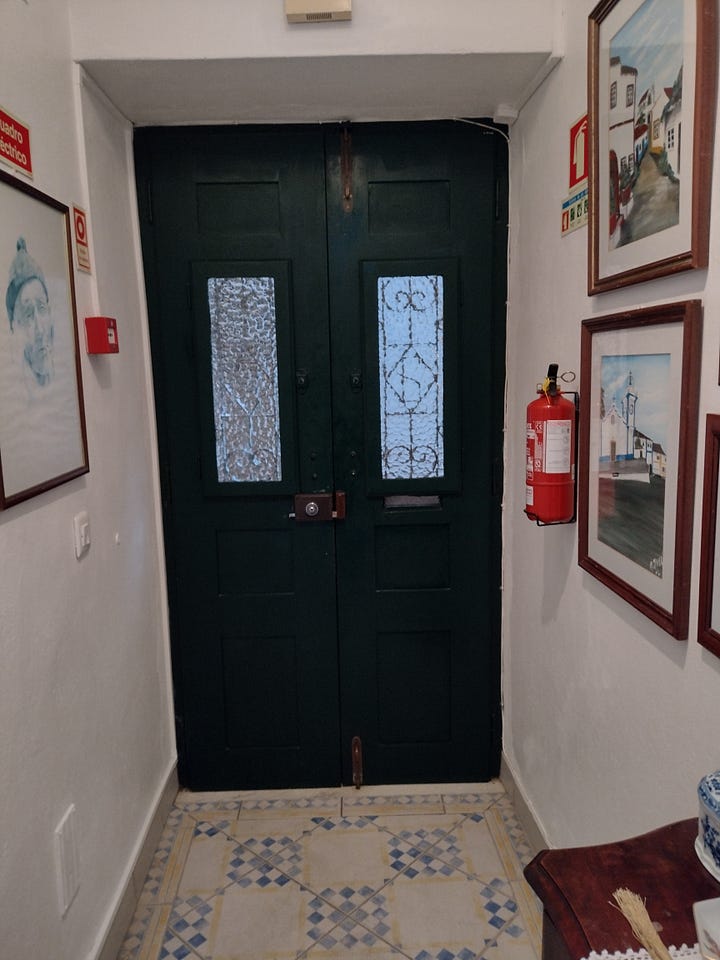 Owner Idália Costa José and her husband António Costa José live at Casa do Adro. As we walked into the main area of the home, Idália explained that it has been in her family since it was built in the 17th century and after the village church was built, her family home was the next to be constructed for a total of only six homes that were in the village at the time.
A retired banking executive, Idália and her family lived in Lisbon but would escape to the family home in the village whenever possible. When she retired, Idália and her husband left Lisbon to pursue their dream of living full time in Vila Nova de Milfontes and opening part of their home to guests. They have been welcoming guests from all over the world for over twenty-five years.
When you enter the tile floored entry foyer, you feel as if you've arrived in your grandma's home! There are family photos from many generations in frames on every wall, beautiful antique furniture, dried flower arrangements, gorgeous pieces of porcelain bowls, vases, plates, knick knacks, and lace doilies and table runners. This guest house is truly a family home.
It's also a well-maintained home! A visitor would never guess that it is as old as it is. This family has lovingly maintained and updated their property including a large kitchen, insulated windows, modern plumbing, and heat and air conditioning, without compromising any of its 17th century Portuguese village charm!
Guest rooms.
There are two guest rooms on the first floor, although we didn't see them during our stay. There are four guestrooms on the second floor, accessible only by a staircase. Idália escorted us upstairs. As we ascended the stairs, directly in front of us, paned glass double doors led to a rooftop patio for guests, complete with tables, chairs, and umbrellas.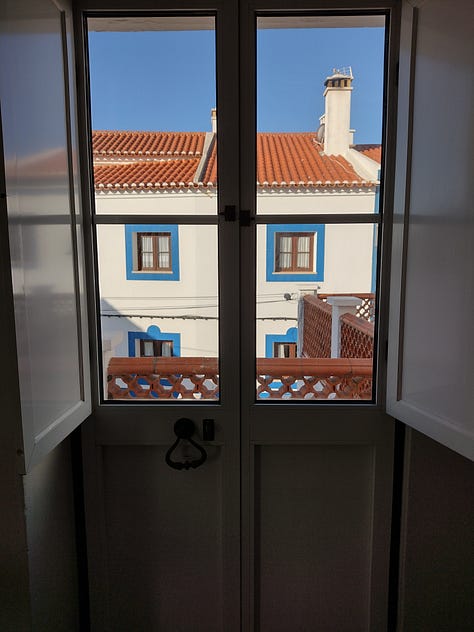 To the left, there was a guest dining and living room (known as a lounge) with a working fireplace, books, games, and an antique server with a variety of complimentary apéritifs for guests. To the right, there was a small guest kitchen with refrigerator, complete with complimentary fruit, beer and wine, a coffee maker with a choice of coffees, teas, dishes, cups, utensils, bottled water, and microwave. Down a hallway there were four rooms, with each room named for a different flower. Our room, named the Girassol (sunflower), was at the end of the hallway.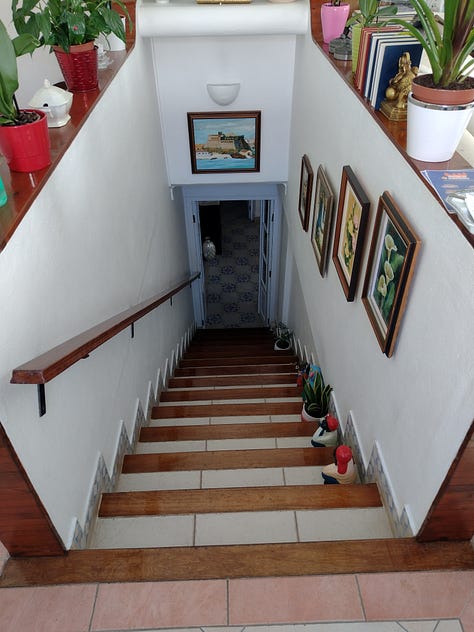 Upon entering our light-filled room, I was immediately impressed with its spaciousness and cleanliness. The room consisted of a double bed (king size), top quality linens and window treatments, polished wood floors, side tables and lamps, a comfortable chair, a desk, a television, and a large closet as well as a modern private bathroom. Everything was tastefully decorated and colorful.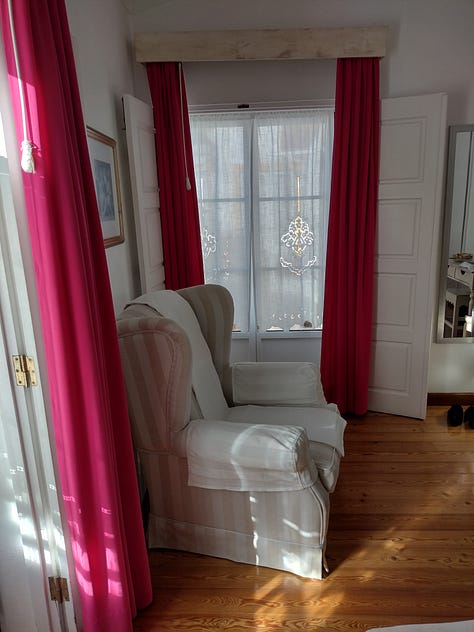 Our room had a small balcony that overlooked the village street and a second patio shared by the other three guest rooms, with tables and chairs.
On the desk in our room, Idália pointed to an insulated water bottle filled with hot water for tea as well as teacups. Also, there was a carafe of water with two glasses. On a tray there was a plate with two slices of chocolate cake. Apparently, Idália is famous for making a most decadent chocolate cake. Our mouths began to water!
After dinner in a local tasca recommended by Idália, we returned to our room and enjoyed the cake! It was the most delicious chocolate cake we have ever tasted - moist, dense and not too sweet. We retired to the comfortable bed and as I drifted off to sleep, I could feel the energy of the little village, its history and its ancestors and I felt a stronger connection to Portugal.
Breakfast is served!
The room rate includes breakfast, and it is served in the first-floor dining room or in your own room if you prefer. We elected to have breakfast downstairs in the dining room. Ana, one of Idália's three assistants, served us starting with a fresh pot of coffee, a pot of warmed milk for the coffee, a carafe of freshly squeezed orange juice, an array of fresh fruits artfully arranged, a plate of the most delicious buttered toast (buttered on both sides - Paul was a happy man), a plate of untoasted bread slices, butter, jam and honey, a plate of cured meats and cheeses, and prepared-to-order scrambled eggs and bacon.
It seemed as if we hardly made a dent in the food but there was nothing to worry about! Ana came into the dining room with a little take-away box and a roll of aluminum foil and said in (sort of) English, "picnic." And indeed, we enjoyed a delicious lunch later in the day on the rooftop patio from the leftovers of breakfast.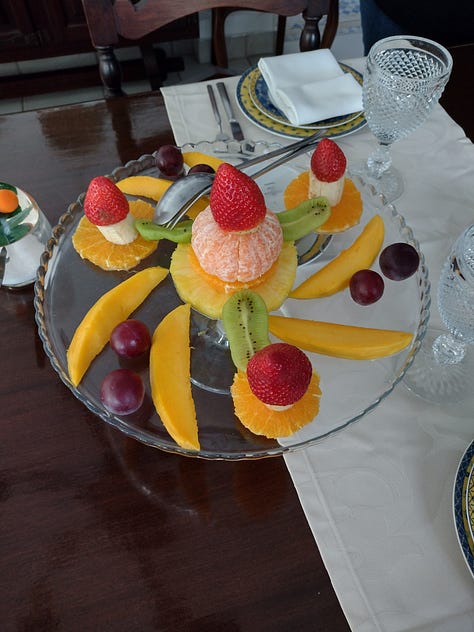 The lady knows what she's doing.
Idália is a smart businesswoman and she doesn't skimp on what's important to the comfort of her guests. The bed linens are top quality and the beds are comfortable. The rooms, bathrooms, and common areas are exceptionally clean. There are thoughtful touches such as lavender body gel, slippers if you need them, a full length mirror, a rack to put your luggage on. Breakfast isn't a buffet – it's made especially for each guest. If she thinks you're chilly sitting in the upstairs lounge in the evenings, she'll bring up blankets made in Portugal to keep you warm. She's knowledgeable about the area and offers to make dinner reservations for you if you'd like or make suggestions as to how to spend your day.
The morning that we were leaving, we paid the bill (cash only – no credit/debit cards) and were presented with a handled bag with the guest house name imprinted on it, a full-color printed brochure, two complimentary bottles of water, and of course, two slices of chocolate cake (good marketing!).
Award winning.
Idália and António's charming 17th century guest house has won numerous awards including awards from Trip Advisor and Booking.com. They are proud of their Portuguese heritage and of their family home, and work hard to make sure guests have a memorable, local village experience. Many of their guests are repeat customers who have become like family. A good portion of guests come from all over the world and stay at Casa do Adro to enjoy hiking or cycling the Rota Vincentina.
As Idália said to me when we first arrived, "While you're here, this is your home."  And then of course, there's always (chocolate) cake!
If you visit:
To learn more about the village of Vila Nova de Milfontes, check out my post.

The guest house website: Casa do Adro da Igreja.

Reservations in advance are recommended. Rates vary according to season. To reserve, you can fill out a form on the website with your request, or reserve on Booking.com.

Payment is by cash only (Euros). No credit or debit cards accepted. ATM's available in the newer section of town.

All rooms have private, modern bathrooms. Also, air conditioning, central heat, and Wi-Fi. See the guest house website for more pictures.

Parking is on-street. Idália will direct you to the best spot to park.

Casa do Adro is in the historic village center and it's easy to walk to the beaches, shops, cafes, and restaurants.
Recommended restaurants: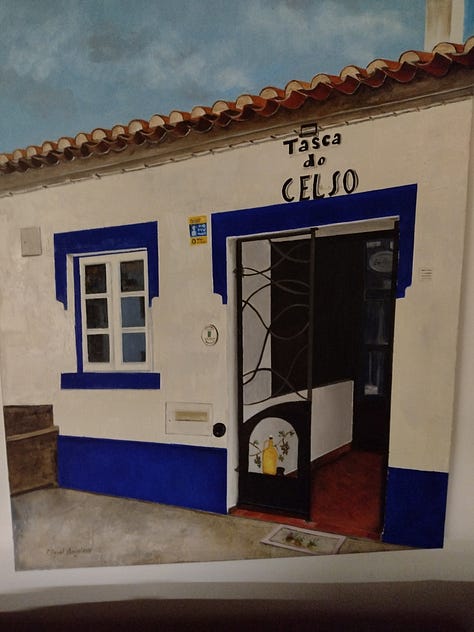 Portuguese artisans.
If you're looking for authentic Portuguese artisan items, check out Hand Color, just a short walk from the guest house. I purchased a beautifully hand-woven cotton blanket (just like the ones Idália has!)
---
Thanks for supporting Our Portugal Journey. My blog is free to subscribers. If you like my work, consider buying me a coffee (or a glass of wine), or simply share my blog with others. Whichever way you choose to support my work, I deeply appreciate it!
Until next time…
Obrigada!
Carol.