Discover more from Our Portugal Journey
American expats living in Portugal. Experiences, challenges, interesting places to explore.
Over 1,000 subscribers
Welcome! I'm Carol A. Wilcox and this is my newsletter about moving to and living in Portugal. If you've received it, then you either subscribed or someone was kind enough to forward it to you.
If my newsletter was forwarded to you and you want to subscribe for free, then click on this handy little button:
Now, on to today's post:
Earlier this year, Paul and I took a 12-day road trip to the Algarve. This was our first big expedition to this region of Portugal, and we didn't have any specific expectations – we just wanted to explore. However, the last thing I would have expected was to think that somehow in a blink of an eye, we were back in Scottsdale, Arizona. But that's exactly what we were both thinking as we drove into the parking lot of Apolónia in Lagoa, Carvoeiro to pick up a few things for our four night stay at the Pestana Palm Gardens.
I miss AJ's Fine Foods.
I don't miss much about my pre-expat life, but I do occasionally miss AJ's Fine Foods. It's a grocery store concept that originated in 1985 to fill the need of an upscale gourmet market in Arizona. There are eleven AJ's located in most of the affluent areas of metro Phoenix, Scottsdale, and Tucson.
This isn't the place I would do a big grocery shopping as they had a smaller selection of grocery staple items and were more expensive than the local grocery chains. But, when Paul and I were looking for something special, we would head to AJ's. The stores are visually pleasing and offer an array of specialty products in equally visually pleasing departments such as their butcher's corner, boulangerie, fromagerie, seafood grotto, bistro, floral boutique, home décor, and wine cellar. If you wanted to throw a dinner party but didn't want to cook, AJ's had you covered with a wide selection of prepared foods. If you needed a gourmet dessert, you had many choices. If you didn't want to cook Thanksgiving dinner, you could buy a complete one at AJ's. And if you wanted to grab lunch and sit outside on their inviting patio, AJ's always had an excellent selection of sandwiches, soups, and salads.
The green signage did it.
There were a few grocery stores all within a few yards from each other, but I think we were attracted to the modern, clean lines of the green Apolónia signage on the building as it subconsciously reminded us of an AJ's. We pulled into a covered customer parking space and headed inside. Oh yeah… this was like an AJ's on steroids! I knew we were going to like this store (and the people behind the concept of Apolónia - read on).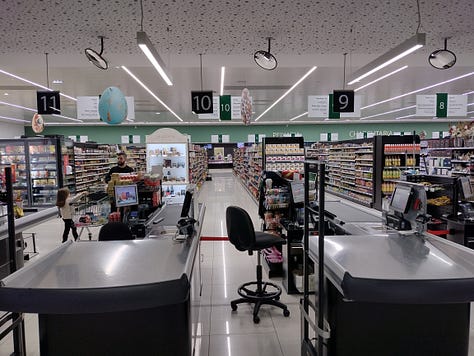 The store was clean, modern, and yes, visually appealing. We liked the fact that the aisle signage was in Portuguese and English – it made it much easier to quickly find what we were looking for and we didn't find the prices for items overly expensive. We did in fact see people and families doing their entire grocery shopping at Apolónia which is always a good sign. I realize they're catering to their market which is comprised of many English-speaking expats and tourists, but to be honest, what's wrong with that? It was refreshing to be able to shop in a store that felt familiar and comfortable to me.
The wine selection was good, not as extensive as the wine cellar at AJ's, but complete with Apolónia red, white and rosé private label wines which were reasonably priced and very good.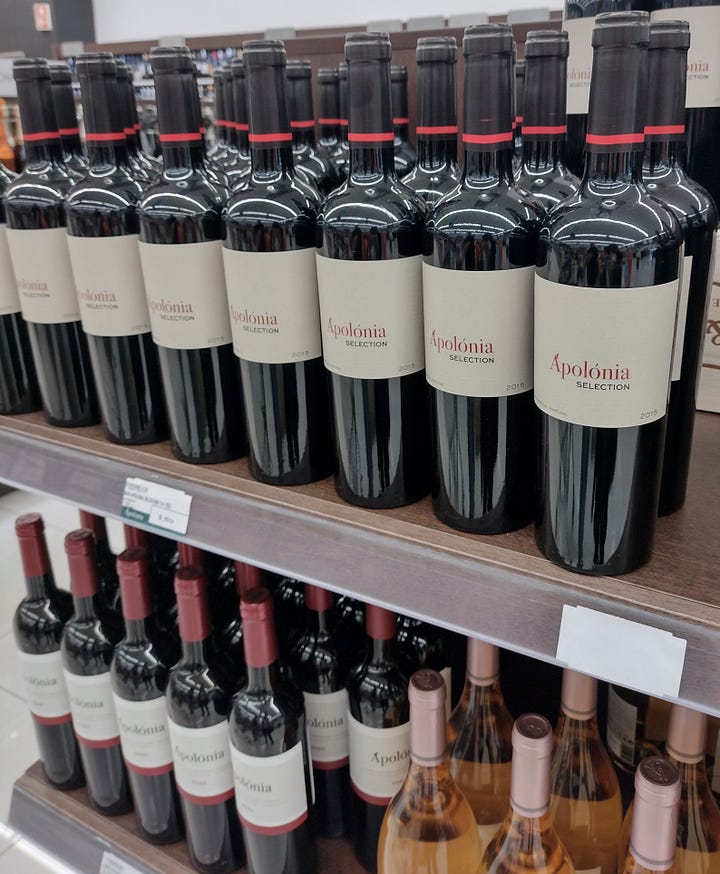 But wait…there's more…
It is common in American grocery stores to see a bank or a pharmacy within the store, but at each of the two Apolónia stores we visited while exploring the Algarve, there was not only a pharmacy, there was a real estate/property management office (the Algarve is booming), a tobacco and news shop, and an extremely nice café with indoor and outdoor seating, accessible from its own entrance in the parking lot, or a separate entrance just inside the store.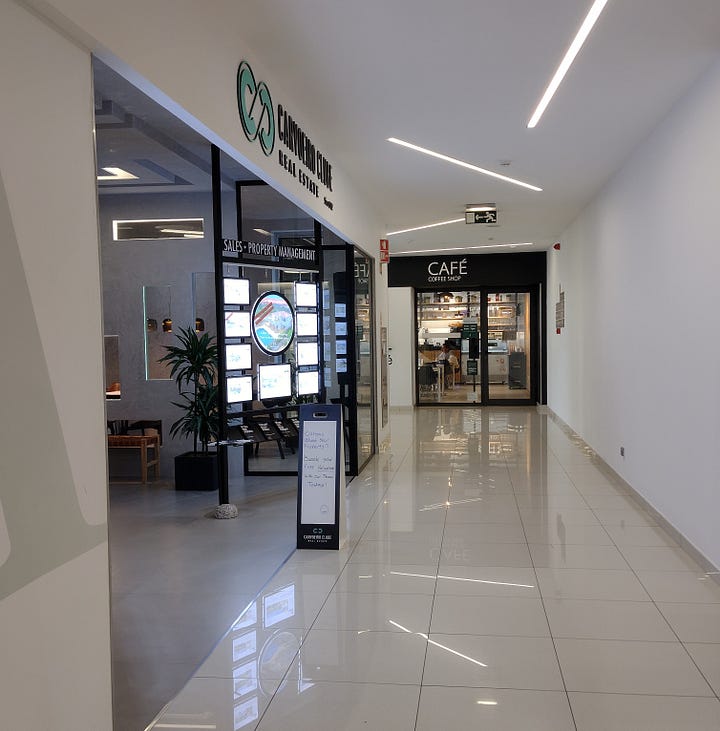 A great "pit stop."
When you're traveling in the Algarve, Apolónia Supermercados make a great "pit stop" because when you're unfamiliar with the area, sometimes you can't always find a convenient restroom or a light lunch in the middle of the afternoon (or a place to park). And even though we often enjoy long, leisurely lunches at local Portuguese restaurants, when we're traveling, sometimes we don't have the time, or we really only want something light and not too heavy to eat. The restrooms at Apolónia were clean and it was nice to be able to order a sandwich (and not just a ham and cheese tosta), or a bowl of soup and a glass of (Apolónia brand) wine.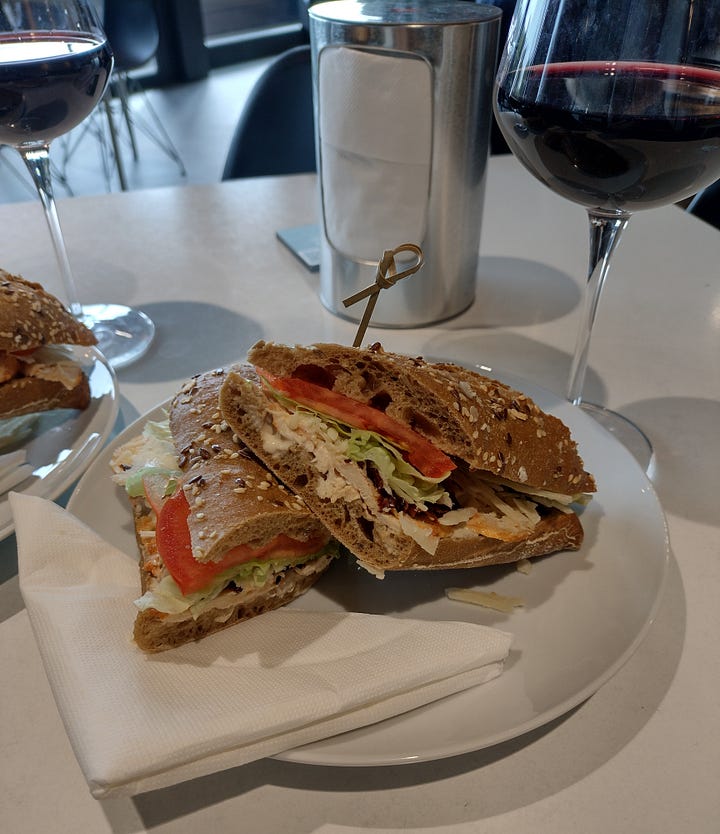 A Portuguese family business.
Here's what I like the best about Apolónia – it's a Portuguese family business.
Loulé-born Avelino Apolónia emigrated to Canada at age twenty-one and worked in hotels where he became a cook and learned the hospitality business. For the next eighteen years working abroad, Apolónia learned about ingredients, sauces, condiments, and foods that were not yet found in the Algarve and about the importance of customer service, which according to Apolónia, was non-existent in Portugal in the 1980's.
Returning to Portugal, in 1983, Avelino and his wife Célia opened a small grocery store in Almancil and began to build a reputation by placing customer needs first – whether the customer was a local or a foreigner – and by stocking a wide range of local and international products. Avelino also kept abreast of market trends and customer-focused retail practices. As the Apolónia reputation for quality and personal service grew in the Algarve, in 2008 a second store in Galé opened and in 2015, a third in Lagoa. Over the years, keeping his focus on the customers and always listening to them, Apolónia added a pharmacy, wines, online shopping, prepared take-away foods, and a café. Today, Avelino and Célia's sons work in the business along with over four hundred employees.
Plans to expand.
I still enjoy going to the local mercados and I think I always will. But sometimes, I enjoy a food shopping experience like I used to get at AJs Fine Foods in Scottsdale. I miss finding a specialty pasta sauce, or a different type of bread, or an interesting salad dressing, or a specific cut of meat all in one place. That's not to say that I don't enjoy shopping at local Portuguese stores because I do.
However, I won't lie. I am excited to hear that this Portuguese family business has plans for expansion in the Lisbon and Porto areas, and there has even been talk about an Apolónia location in the Cascais/Estoril area (which would make me very happy). Scottsdale? Who needs Scottdale…
---
Thanks for supporting Our Portugal Journey. My blog is free to subscribers. If you like my work, consider buying me a coffee (or a glass of wine), or simply share my blog with others. Whichever way you choose to support my work, I deeply appreciate it!
---
Until next time…
Obrigada!
Carol.