Discover more from Our Portugal Journey
American expats living in Portugal. Experiences, challenges, interesting places to explore.
Over 1,000 subscribers
I love hand painted Portuguese pottery but have only owned two pieces (one broke in several pieces years ago and the other piece I have had for over 35 years). But now that I live in Portugal, I have the time (and a car!) to search for new pieces to collect and enjoy. One such place for pottery that I wanted to visit was Porches Pottery, where they strive to keep centuries-old artisan traditions alive.
Porches Pottery (Olaria Algarve de Porches) is located along the EN125 road in the town of Porches in the Algarve. A visitor can drive or walk up a stone and dirt road to a parking area and enter the pottery by a sweeping tiled staircase leading to a walled garden and a rambling, seventeenth century-style farmhouse.
An art form that nearly became extinct.
In the early 1960's, Irish artist Patrick Swift visited the Algarve for the first time and was fascinated by the traditional artistic craftsmanship that had deep roots in Portugal – not only as art – but as a way of life, with artisans passing their skills from generation to generation with designs and techniques dating back to the Neolithic era. But as the decade ended, and modern plastics became preferable to hand painted earthenware, Swift realized these artisans – including their techniques and traditions - were becoming extinct. So, in 1968 Swift, his wife, Oonagh, and Portuguese artist, Lima de Freitas formed a partnership to preserve and promote Portuguese handcrafted pottery and opened Porches Pottery.
Majolica technique and freehand painting.
The artisans of Porches Pottery use a Majolica technique which is glazed earthenware believed to have originated in Europe by the Moors on the island of Majorca at least 1,000 years ago. Some of the round pieces such as bowls and mugs are hand thrown while other pieces are produced from molds created by the pottery. Each piece is handmade, and hand decorated. The pottery emphasizes clean freehand painting by the artists brush preferring to have each piece created as a one-of-a-kind work of art.
All the artisans at the pottery are from Porches with the founding artisans personally trained by Patrick Swift. During the weekdays, a visitor can observe some of the artisans at work.
My visit.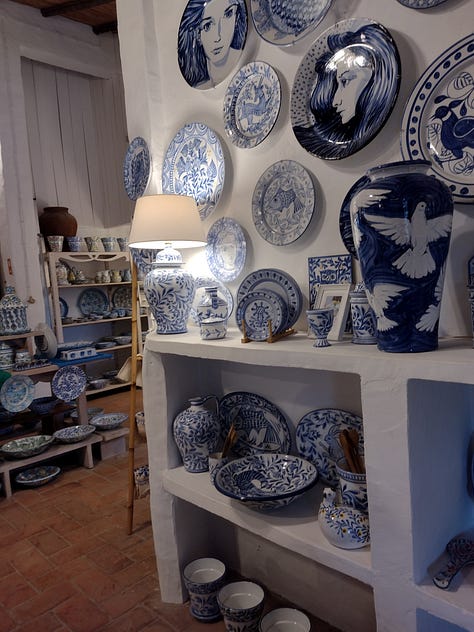 There's a lot to see at Porches Pottery! Entering the spacious shop, I was overwhelmed by all the colors, designs, and beautifully shaped pieces displayed on shelves, walls, tables and around the fireplace. In the center of the shop, there are check-out counters. Also in the center, two artisans were busy hand painting pieces.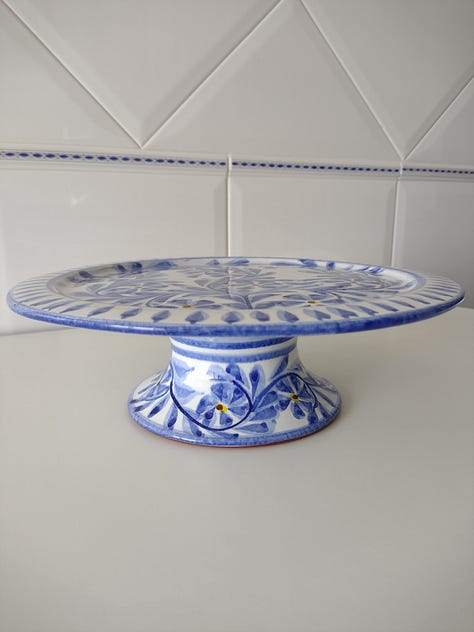 I had a vague idea in mind as to what I was looking for but allowed myself to wander and let the pieces choose me. Ultimately, I found this piece (pictured above) which I can use for serving desserts or with a little bowl in the center, I can serve vegetables and dip or shrimp cocktail. I also purchased a little bowl (for dip) and two tea candle holders. I didn't want to stop shopping, but Paul gently reminded me that the car could only hold so many shopping bags plus he said that we can always come back another time to do more shopping (I often have to remind myself that I'm not a tourist here in Portugal)…
A family affair.
Patrick Swift died in 1983 after an illness. Patrick's wife, Oonagh, an artist in her own right, managed the pottery for over twenty years until her death in 2012. Oonagh and Patrick's daughters, Estella Swift Goldmann and Juliet Swift, both artists, currently manage the pottery, and work to design new patterns for the store. They also accept commissioned work.
If you visit:
Porches Pottery is located on the EN125 road in the town of Porches, Portugal in the Algarve.

They are open every day except Sunday. Check their website for current hours of operation.

Free parking.

If you can't make it into the store, you can shop online. The company ships internationally. If you're located outside of the European Union, your package may be subject to customs charges.
If you're hungry after all the shopping, Café-Bar Bacchus is located inside Porches Pottery. It's small inside with cozy wood beams, tiled tables, and a fireplace. In warmer weather, there's an outdoor garden patio. Lite fare including soups, quiche, sandwiches, salads, and desserts.
---
Muito obrigada (many thanks) to Beverly and to Anonymous for supporting Our Portugal Journey through Buy Me a Coffee. Your generosity and interest help to keep this publication free to subscribers.
Until next time…
Obrigada!
Carol.